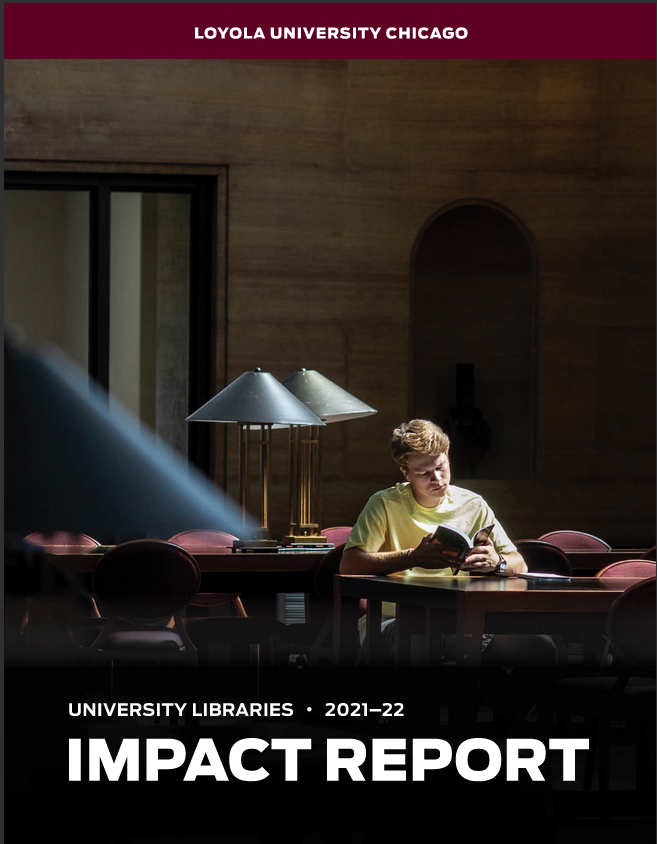 MESSAGE FROM OUR DEAN
Dear Friends and Colleagues,
I am pleased to share with you this impact report from the Loyola University Chicago Libraries. Covering a two-year period, it highlights some of our organization's activities and achievements from throughout 2021 and 2022, a critical time during which we emerged from the height of a pandemic and embarked on a new-normal approach to supporting the academic pursuits of our students, faculty, staff, and broader user community. On the following pages, you will learn more about additions to our collections, enhancements to our programs and services, and improvements to our spaces, as well as about our latest initiatives and collaborations. You also will be introduced to the newest members of our dedicated, expert team.
During the period detailed in this report, the libraries crafted a new strategic plan that will guide our work through 2025. It more fully articulates the deep commitment to diversity, equity, inclusion, and social justice that we long have held. The past two years have demanded a new kind of adaptability and adjustment, as the needs of library users and the ways in which we meet them have changed dramatically. I hope you will enjoy reviewing our accomplishments and that you will continue to be a partner in our efforts.
Sincerely,
Marianne Ryan, PhD, MLIS
Dean of University Libraries
View our 2021 - 2022 Impact Report
---
Acknowledgments
Thank you to the following faculty, staff, and advisory board members who contributed to the report: Annette Alvarado, Terri Artemchik, Laura Berfield, Ling-li Chang, Jocelyn Cheng, Peter Gilmour, Tori Golden, Margaret Heller, Emma Heet, Kevin Kennedy, Lawrence Koval, Hong Ma, Chris Martin, Greer Martin, Anna McCue, Mariam Pera, Steve Pump, Emily Reiher, Tracy Ruppman, Marianne Ryan, Martha Spring, Paul Voelker, Yolande Wersching, Anne Wittrick, and Kathy Young.
Ross Zafar, Graphic Designer
---
Additional Photo Credits
Page 13
Class of 1965, Mundelein College Paper Records, Women and Leadership Archives, Loyola University Chicago
Page 16
St. Ignatius College & Loyola Medical Center images:
University Photograph Collection, Loyola University Chicago Archives & Special Collections
Lewis Towers & LSC Campus ca. 1950s:
Joe Smajo Photograph Collection, Loyola University Chicago Archives & Special Collections (Joe Smajo, photographer)